App Search Optimization
Improving Visibility and Boosting Revenue
Finally, your prized mobile app is finished after months of hard work and it's now up in the App Store and Play Store. One month had passed and there's been a promising number of downloads. But then two, three, and four months had passed, and you've noticed the downloads slowly declining until it hits zero.

The problem? There are too many mobile apps in the app store and your app may be invisible in search results.

The solution? With millions of mobile apps to choose from, what you need is a strong app search optimization strategy to effectively promote your app and help make it stand out from the competition.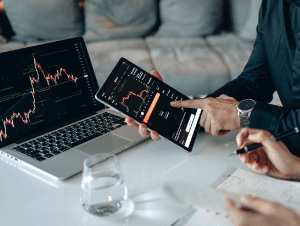 ASO – The Solution Every Mobile App Businesses Need
It might be your first time hearing the term "app store search optimization" or simply known as ASO. But to mobile iOS and Android businesses, it plays a huge role in terms of maximizing their app's visibility, improving its search rankings, and increasing its conversion rate that ultimately leads to the app getting more organic downloads.

Similar to SEO, ASO is a process wherein mobile apps can be optimized to achieve higher rankings in the app store search results. Given the high level of competition, your app needs to have a higher ranking for it to be more visible to potential customers. The more visible it is, the more traffic your app page receives.

The ultimate goal of app search optimization is not just to increase the number of downloads, but to also increase the number of loyal users. Making sure that your mobile app is easily discoverable by users is the way to go.

Improves app's visibility & discoverability

Boosts organic downloads

Increases revenue and conversion rates
How Does Apple and Android App Search Optimization Works?
Millions of mobile apps are already existing in the app store and you might think that it's impossible to rank high or even stand out from the competition. But with the right ASO strategy put into place, it is possible.

Part of the ASO strategy is having an in-depth understanding of the target customer base. This involves knowing the keywords that are used in finding apps similar to yours. When you know what keywords are being used by even your competitors, you will have a better understanding and decide on keyword choices.

Establish a Google and Apple app store search optimization strategy

Pick the right mobile app name

Perform keyword research

Create the app description with the keywords incorporated naturally

Design an eye-catching app icon

Convince users to download the app through screenshots and videos

Consider localization to reach a global audience

Display app ratings and respond to reviews
Why Media Manager Should Be Your Top Choice for App Search Optimization Provider?
In today's mobile app market, millions of apps are vying for the attention of the same target customer base. It's necessary to make use of the best techniques to encourage potential customers to download and use your app instead of others. From a business point of view, App and Play Store app search optimization play a crucial role to make your app discoverable and downloadable to generate revenue for your company. With 63% of apps getting discovered through app store searches, don't waste the opportunity of your app to be a financial success because you didn't apply ASO.

We have sufficient experience in delivering ASO services. Let us get started with improving your app's ranking in the search results.
Ready to send your first email?
Let's get you started!
BE SEEN. IMPROVE CONVERSION.
GET MORE DOWNLOADS. INCREASE REVENUE.