What Is Business Intelligence?
The world is now dominated by data, making it essential for businesses to understand how they can better extract value from data on hand. With the influx in available data, the ability to understand which of these datasets are relevant to their goals and strategies has helped business leaders improve the way they run and make decisions for their companies. This concept is known as Business Intelligence, and it's a technology-driven process used by every business around the world today.
Contact Media Manager for cost effective BI solutions
Business intelligence, also known as BI, refers to the process of using strategies and technologies to analyse data (both current and historical) to develop business strategies, make informed business decisions, and provide companies with a competitive edge. Through data gathering, data storage, and knowledge management combined with comprehensive analysis, BI provides information on how a company can and will operate and perform.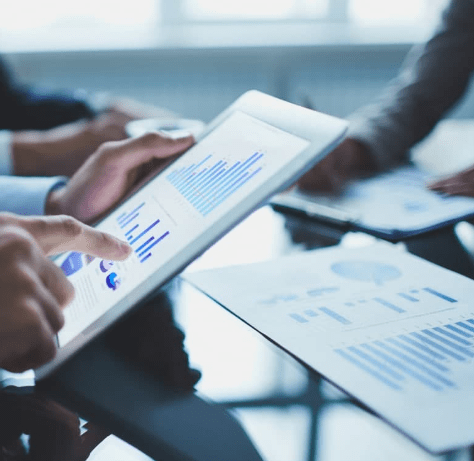 How We At Media Manager Deliver Business Intelligence Solutions
Data-driven companies use complex data derived from different source systems to support prediction development and decision-making. Companies that understand the contents of the data can visualise and analyse it to come up with strategies and technologies to inform and support decisions as well as offer new business goals or priorities.
For a BI business intelligence strategy to be executed successfully, it's crucial to have a system in place for how data will be used – from the collection, processing, analysis, and up to the reporting stage where it'll reach decision-makers and business stakeholders. With a strategic focus on the solution that is at hand, the business will know what it needs and can then proceed to collecting and interpreting data on the topic. Assisted by a business intelligence system tool, it helps observe and extract knowledge from the analysis.
With BI being descriptive, it aims to deliver answers to business questions such as:
What's happening now (current data)?
What happened in the past (historical data)?
Why did it happen?
Through charts, graphs, and other reports that will be provided, the analyses can then help convert data into actionable insights that will guide the company to make strategic decisions. Even non-technical end users will learn to understand, look into the data, as well as generate new reports through tools created by expert business intelligence companies.
Why Do Companies Need Business Intelligence (BI)?
In the beginning, the main users of BI applications are BI and IT professionals. From running queries to creating dashboards and reports for business users, BI applications have been a great source of data. But due to the evolution of business intelligence tools, becoming user-friendly and more intuitive, business executives, analysts, workers, and other users find themselves capably using the platform.
Benefits of BI:
The benefits that business intelligence solutions can provide businesses today are plentiful and diverse, but it all boils down to giving companies access to knowledge. The knowledge that analysed data brings can help transform your company and the way you do business. And if implemented correctly, BI can offer a wide range of strategies that will help businesses grow and improve.
Provides a Comprehensive View of the Data
A vast amount of data is generated every second of every day. This means that it can be challenging to access information at the right time so you can make strategic business decisions. But with a business intelligence system in place, it's easier to access the organisation's data through dashboards as well as convert, merge and report data. The tool can generate data visualisations that will help even non-technical users to understand complex information as it's converted to an easier and more comprehensible way.
Improves Experience and Increases Satisfaction of Customers
Businesses that become successful are those that understand their customers the best – from their behaviours and buying patterns to their needs and preferences. While customer feedback provides information that can help improve customer experience with the business, buying patterns and behaviours can help employees better analyse and anticipate customer needs and therefore increasing customer satisfaction.
Helps Make Data-Driven Decisions for the Business
One of the greatest benefits of business intelligence services is that companies, especially stakeholders and decision-makers, gain access to accurate data due to the fast reporting capability of BI tools. There's no need to wait for days or weeks to access reports, which will end up with outdated data risks. You can get your hands on real-time data that'll help you make tactical business decisions.
Increases Revenue Growth
One of the many, yet primary, goals of any business is increasing its revenue. Because historical data along with the current data is analysed, businesses come up with solutions as they make comparisons and identify sales weaknesses. From listening to customer feedback to improving business operations based on the data, it's more likely for the company to achieve revenue growth in the long run.
Get World-Class Business Intelligence Solutions From Media Manager
BI should be considered a crucial part of businesses handling enormous amounts of raw data every day. Not only with it help analyse data with historical and current contexts but will also help improve operations by tracking performance, accelerating decision-making as well as increasing competitive advantage. You might not see how vital BI is now, but let a business intelligence professional explain it to you and you will see it eventually.
The cost of our services will be calculated on a price range of S$10-100 per survey.
Media Manager is the go-to company for local and global businesses looking for market research, digital marketing, and other services we offer. But other than that, we are also well-known for delivering exceptional business intelligence services to companies today. For companies interested in this service, you can reach us through our contact form.