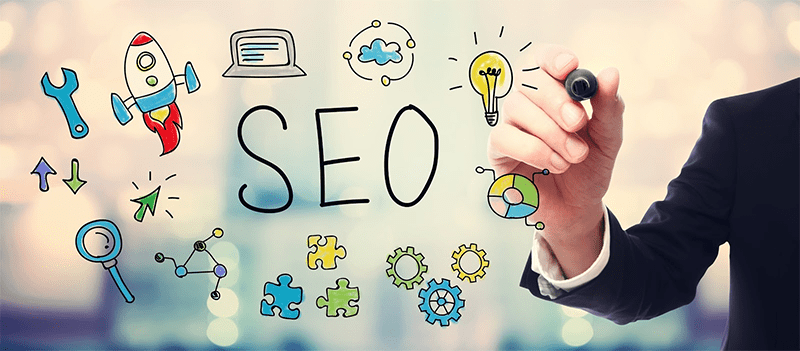 If you thought attracting customers to your brick-and-mortar store is a challenge, getting customers to find your online store can be even more difficult. With an increasing number of ecommerce websites competing for the attention of shoppers with comparable products, you need to make sure that your online business stands out. That's where SEO comes in.
What is Search Engine Optimization (SEO)?
It's the process of getting a website to rank higher on search engine results pages (such as Google, Yahoo, or Bing) through unpaid and what we call "organic" efforts. When a person types a word or sentence into a search engine, it pulls up a list of web pages that are all ranked so that the most relevant results appear at the top of a page. The top of the results page displays paid ads followed by organic search results. The bottom line is that people tend to click more on the results found on Google's first page, so you want to make sure your website appears at the top.
By making SEO changes to your online store, users will be able to easily find your website at the top of the search engines. So how exactly can you use SEO to improve your ecommerce website? Follow these basic SEO tips:
Keyword Research
Imagine you own a brick-and-mortar retail clothing store which specializes in selling t-shirts and pants for men and woman. You decide to finally open an ecommerce store because you want to sell both in-store and online. However, there are thousands of competitors ahead of the game. How do you make your ecommerce store stand out from the rest?
Your SEO keywords are the keywords and phrases on your website that make it easy for users to find your site through Google, Yahoo, or Bing. If you want to optimize for the keyword "iPad" in the title and body of your web page, you should sprinkle your keywords on your web page in a coherent and natural way. This will help Googlebots better understand what your website's content is about, rank it higher and, in turn, users will be able to easily find your site.
Conducting keyword research for your website is one of the first steps you need to take to be found by potential customers online. What does keyword research entail? It means compiling a list of keywords you will use to label your products online based on search volume, competitiveness, etc.
By writing content using the keywords best suited to the products or services you sell online, you'll be able to help potential customers better find what they're looking for. There are a wide variety of keyword tools you can use online:
Google Adwords Keyword Planner
KeywordTool.io
Amazon Suggest
Write Content
Finding the right keywords for your products is only the beginning to setting up your online store. You'll also need an integrated-blogging ecommerce platform that will allow you to post blogs that keep users coming back for more. By writing engaging content, you can build a personal relationship with your users and improve search engine ranking. The more visitors you receive on your website, the more Google sees your site as credible and authoritative, thus moving you higher up in the search results page. By posting frequent, relevant and engaging blog posts to your website, you can help boost online traffic and even online sales.
Notice how the blog post below includes all keyword variations of dog foods. By posting a helpful and relevant blog post on dog treat recipes, users specifically searching for this might land on your website, and even make a product purchase. Writing tips and articles not only helps you stay in touch with customers, but also helps you score points with Google's search engines.
Optimize Pages with Titles and Meta Tags

Meta Titles
A meta title explains what your online store is all about. It's a short 60-70 character title found on the search engine result pages. In this case the title is "SEO & Digital Marketing Agency in Singapore | Media Manager".
Meta Descriptions
A meta description is a short 155 character snippet that summarizes a page's content. In this example, the meta description is "Get to first page Google with the best SEO agency – Media Manager. We also offer digital marketing, social media marketing, and wechat marketing services."
Meta Keywords
Meta keywords are search terms by which you want your websites to be found by search engines. By inserting your target keywords into the meta keywords box of each page, you can easily advertise content for users searching for your products and gain user click-through from search engine result pages.
Now that you know the basics on how you can leverage your ecommerce store using SEO, social media marketing, and content marketing, you can start updating your online store in order to rank higher than your competitors.