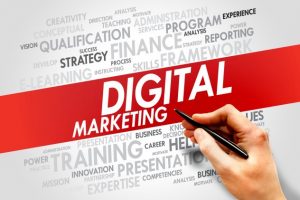 eCommerce or Electronic Commerce is a term used for exchanging of goods or services that involves the conduct of business over an electronic network, typically the use of internet. This type of business is booming and is adapted all over the world because of its easy start up and management, moreover your potential consumers can easily browse and buy your products or services, thus easily transforming potential sales into actual sales.
With the advent of android phones and fiber optic internet, the online marketplace now is already saturated with eCommerce sites and almost all product or services is being sold in two or more websites. So how will you increase your chances for the potential consumers to find you?
One way to make your e-Commerce business in the loop is by investing in digital marketing. Digital marketing is an umbrella term for the targeted, measurable, and interactive marketing of products or services using digital technologies to reach and convert leads into customers.
Here are the digital marketing tips that every e-commerce business owner needs to put into practice:
All about Keywords
Online keywords research is more often specific than what you expect especially if the product is trending. For this reason, including brand name, brand specifications and sizes can help you clear the competitors. Use long-tail keywords, geographic validation, and social media trends to evaluate incoming marketing demands. Regardless of the online keyword tools, you are using, play with keywords and get into the shoe of your potential customers. Be your own customer, ask yourself what will you ask if you are the one finding this product.
Get reviews
Getting reviews is as good as shortlisting probable keywords for your product so be an active participant in your social media accounts. Customer testimonials for some reason increase product sales and increase the amount of page content. Product reviews make or break your product credibility so be wise because this is what potential customers read first. This is where your customer purchasing decision is critical, thus, train yourself or your staff to ask a satisfied customer for a review after the completion of a transaction.
Social media marketing
Social media marketing helps you map out your clients' personalities by engaging them with different posts, promos or polls. Your Facebook page, Snapchat, Twitter, Instagram should always be updated because this is where people see you first. Again, and again we have been pointing out how you have to use social media to your advantage. (See Digital Marketing Trends)
Mobile evolution and wearables
It used to be just desktop computers, but now tablets, smartphones, smart watches smart glasses and all things smart have evolved and made our life easier. Mobile phones and wearables have set a new standard for digital marketing today, with these new technologies online marketing can now track the demand and what is trending in just a matter of seconds. (Read more here Advantages of having mobile apps in your business) So if you have not yet invested into mobile application, now is the right time to do so.
Live video streaming is the next big thing
Video marketing has been the dominant tool for marketing for the last couple of years, be it on television or radio and now it is also happening online while we are using social media or even while reading a blog. Live streaming can pull millions of viewers and can even continue generating views even after the live broadcast ends. The thing is, it does not have to be high budget. Live streaming provides an opportunity to build a relationship between the customer and the business, gives real-time brand transparency and a chance for the business to introduce the people behind the brand.